Last week during the Oracle Users Group Leaders Summit in Bucharest I had the pleasure the meet the leaders for the MySQL Users Group from Azerbaijan,  Finland, Madrid and the Netherlands.
During some discussions, it appeared that some users are not aware of the Performance_Schema integration in MySQL Workbench. Indeed with WB you can enable PFS, add sys table if not present by default (<5.7).
You can use a default configuration or customize it and enable all the instruments and consumers you need.
When enabled, you can generate some useful reports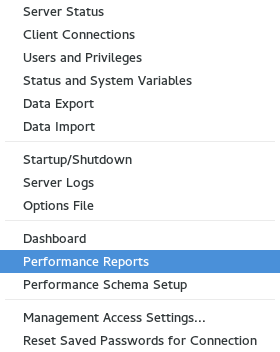 In case you are also not yet aware of it, the following dashboard is also available in MySQL Workbench
The latest version of MySQL Workbench has been released yesterday, June 13th : 6.3.7 GA
I deeply value the diversity of MySQL developers, users, community and my blog readers. I cannot agree the suffering, oppression, and systemic racism the Black community faces every day. Black lives matter.